The MoneyWorks family of accounting software provides a range of feature rich but easy-to-use solutions for small-to-medium organisations. MoneyWorks is robust, fast, and scalable yet simple and user-friendly, with an excellent audit trail and superior reporting capabilities. Because of its outstanding flexibility and customisation features MoneyWorks can do the things others packages can't - allowing you to get information to improve decision making.

There is a range of packages to suit different sized organisations, whether you operate from home or have several hundred staff, and an easy upgrade path from one package to the next as your organisation grows, with no loss of data. MoneyWorks Cashbook provides cash based accounting. MoneyWorks Express adds invoicing. MoneyWorks Gold includes inventory and job costing as well as multiple currencies and peer to peer networking. MoneyWorks Datacentre is a server based product for serious multi-user accounting.

Developed by Cognito Software Ltd, we also recommend MoneyWorks because it integrates so well with our own packages.



MoneyWorks Cashbook is an elegantly simple to use cashbook backed by the integrity of a general ledger. It makes GST, bank reconciliation and financial reporting easy, and is ideal for sole-traders, clubs, churches, charities—in fact any organisation that is primarily cash based.

MoneyWorks Express is the ideal solution for small organisations who need more than a cashbook. It provides full invoicing and a powerful debtors and creditors ledger, all fully integrated into the cashbook and general ledger.

MoneyWorks Gold has a wealth of features normally only found in packages costing thousands of dollars, including departmental accounting, time billing, customisable reports, purchasing, forms design and inventory, multi-currency, and multi-user networking ready, with privilege control. As your business expands, you can add as many users as you need.

MoneyWorks Datacentre is a dedicated network server for MoneyWorks Gold data. When you need to share accounts for multiple companies or on a central server, MoneyWorks Datacentre is for you.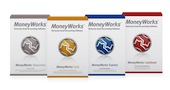 Moneyworks for Macintosh
MoneyWorks for Windows

| | | |
| --- | --- | --- |
| Cashbook | NZ$125 | |
| Express | NZ$450 | |
| Gold | NZ$895 | |
| DataCentre | NZ$2,995 | |



MacOS X v10.5.8 or later
PowerPC or Intel Processor
1024 x 768 or larger display

Windows XP, Vista, or Windows 7 or Windows Server 2003 or later
1024 x 768 or larger display

MacBusiness Job Tracking
MacBusiness Payroll
MacBusiness Point of Sale